True to the "Eat Well, Live Well" promise, Ajinomoto Philippines Corporation (APC) aims to propel meaningful initiatives that will improve the health and wellbeing of Filipino families. In line with this, APC teams up with Mega Prime to encourage vegetable intake through easy to prepare yummy recipes which will help in strengthening immunity.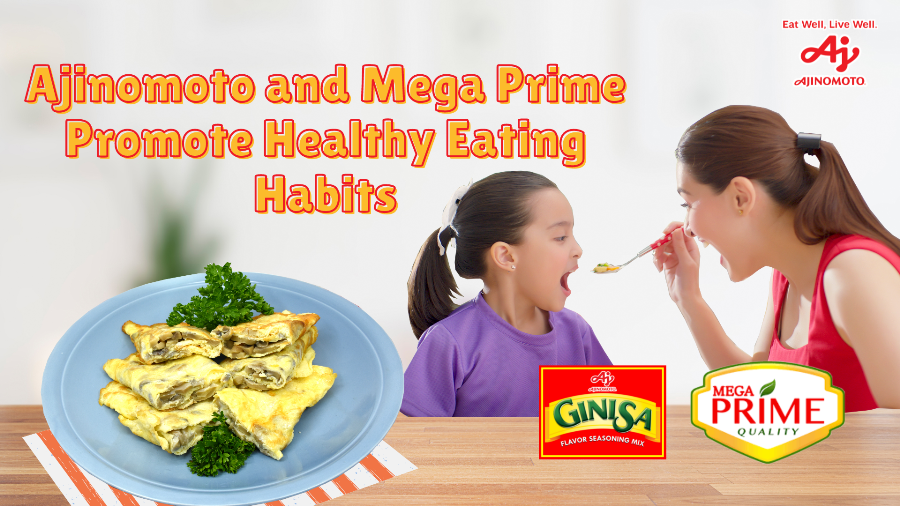 AJI-GINISA® Flavor Seasoning Mix and Mega Prime formed win-win alliance to aid homemakers in making nutritious and delicious meals for the family as well as offering value to consumers with bundling promotions amidst rising prices of commodities.
Eggs are always an easy go-to dish, being easily accessible and quick to cook. Instead of usual scrambled egg, why not level up and cook Button Mushrooms Omelet with AJI-GINISA® and Mega Prime Pieces and Stems Mushrooms? Egg is good source of protein, but by adding mushrooms, you also add dietary fiber into your meals. Full recipe here.
*Based on 1/3 Philippine Dietary Reference Intake (PDRI) for Adult Male and Females
"With day-to -day busy schedule of homemakers and budget limitation, we understand that nutrition usually takes a step back when preparing meals. Through the partnership with Mega Prime, we aim to help homemakers in preparing affordable, nutritious and delicious meals for the family." shares Ajinomoto Philippines Corporation Marketing Department Head Daryl Magno.
Veggie Fried Rice
Starting, or getting through a long day requires having a meal that's rich in energy sources. For those days, what better way to fill up your stomach than by preparing some fried rice. Veggie Fried Rice is an all-in-one meal, with rice and corn as main sources of carbohydrates to produce energy, alongside egg which is rich in protein and repairs the body's cells and creates new ones. Stir-fry your favorite Mega Prime green peas with leftover rice and season with a pack of AJI-GINISA® Flavor Seasoning Mix to add more flavor. Green peas are good source of Vitamins A, K and C and rich in antioxidants. Check the recipe here.
Visit Ajinomoto's LazMall and Shopee Mall pages and get 1 free can of Mega Prime Green Peas (155g) for every purchase of 2 polybags Aji-Ginisa® 8g until October 30, 2022. Homemakers may also shop in select local grocery stores to avail for one free pack of Aji-Ginisa® 8g for every purchase of Mega Prime canned mushroom 425g.
"Nutrition need not be expensive and difficult. Nutritious food does not have to come at the expense of convenience and ease," says Magno. "We at Ajinomoto, aim to provide solution and equip homemakers on preparing affordable, delicious and well-balanced meals so that every Filipino family can eat well and live well."
For more delicious and healthy recipes, visit Ajinomoto's Cookmunity website: https://www.cookmunitybyajinomoto.com/
Mrs.Enero – Angel Enero is a former IT System Administrator and now a full-time SAHM to her #littleEneros. She's a domesticated / hands-on mom who loves baking and gardening.
MRSENERODIARIES blog is an online diary of Angel Enero. Formerly a travel blogger and now a lifestyle mommy blogger. Blogging about EAT. PRAY. LOVE. TRAVEL.