Ajinomoto Philippines Corporation (APC) recently launched Sustansarap, Sustansaya!, a series of online nutrition classes and cooking demonstrations, through a Facebook Live on Cookmunity by Ajinomoto page. The project aims to help Filipinos improve their nutrition knowledge and cooking skills with the help of food experts. It is set to run on a quarterly basis on the brand's official Facebook page.
"We, at Ajinomoto, believe that nutrition education is vital in taking care of our families' health. However, for most, nutrition information can be intimidating and difficult to understand. With day-to -day busy schedule of homemakers and budget limitation, we understand that nutrition usually takes a step back when preparing meals. Sustansarap, Sustansya! makes nutrition information fun, simple, accessible and proves that easy, affordable, nutritious, and delicious meals are possible, especially with the help of Ajinomoto products," said Roann Co, Ajinomoto General Manager of Corporate Planning and Public Relations.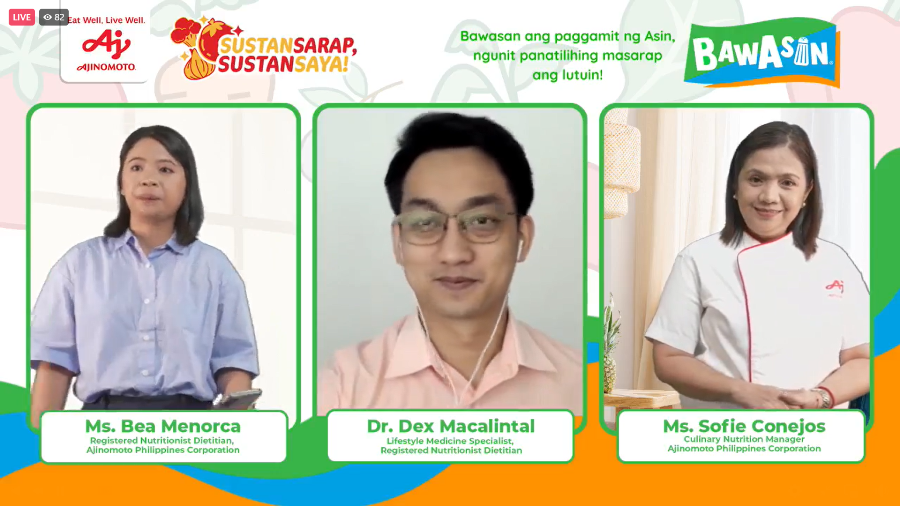 Class #1: BawAsin Natin! (Delicious Salt Reduction)
The livestream launch features the first Sustansarap, Sustansaya! online class titled "BawAsin Natin." The pilot session focused on delicious salt reduction wherein health and nutrition experts Dr. Dex Macalintal and Bea Menorca, RND shed light on the adverse effect of excessive sodium intake in our health and why it is important to reduce salt intake. They shared a practical tip that it is not difficult or costly to reduce sodium in daily meal preparation. One easy way is lessen teaspoon salt and use monosodium glutamate (MSG). MSG contains only 1/3 amount of sodium compared to table salt. With MSG, sodium intake can be reduced by up to 40% while maintaining overall deliciousness of food.
"It is important to know that high blood pressure or hypertension can cause complications such as stroke, heart failure, heart attack, and kidney failure. Among the factors is the frequent consumption of foods high in sodium. According to the World Health Organization, the recommended sodium intake per day is below 2000 mg. But for Filipinos, the actual intake is more than twice this recommendation. One way to reduce sodium intake is reducing intake of salty foods." shared Dr. Macalintal, Lifestyle Medicine Specialist.
"To help and encourage Filipinos to clear their worries and struggle on practice of salt reduction, the BawAsin® campaign was started by APC. It aims to share how it is important to reduce sodium intake for our health and not sacrificing the taste and deliciousness of our meals," said Menorca, APC Specialist – Science Communication.
For more information, checkout BawAsin® section in APC's official website. The site features 100 less sodium creative recipes that help individuals enjoy meals that contain less sodium yet enjoying same deliciousness.
After the lectures, Sofie Conejos, RND APC Manager – Culinary Nutrition demonstrated two Less Sodium Recipes: Upo Kalabasa and Sotanghon Soup and Chicken Eggplant Omelette, made delicious by AJI-NO-MOTO® Umami Seasoning. She reiterated that lessening sodium in diet is not difficult and does not mean sacrificing deliciousness of food. For other easy-to-follow delicious less sodium recipes checkout ajinomoto.com.ph/whats-new-archive/sodium-recipes/
The Sustansarap, Sustansaya! Online Class is in line with the brand's "Eat Well, Live Well" promise, that aims to propel meaningful initiatives that will improve the health and wellbeing of Filipino families. This project is also one of the actions made by Ajinomoto to fulfill its ultimate goal of extending the healthy life expectancy of 1 billion people.
"With Sustansarap, Sustansaya! online classes, we hope to educate, empower, and enable families to live a healthy and happy life, one nutritious and delicious meal at a time, " said Co. "We have more classes and cooking demonstrations in store and we're eager to encourage more people to learn about nutrition and apply them in their own kitchens."
To catch the next Sustansarap, Sustansaya! online class, follow and stay tuned at Cookmunity by Ajinomoto facebook page.
Mrs.Enero – Angel Enero is a former IT System Administrator and now a full-time SAHM to her #littleEneros. She's a domesticated / hands-on mom who loves baking and gardening.
MRSENERODIARIES blog is an online diary of Angel Enero. Formerly a travel blogger and now a lifestyle mommy blogger. Blogging about EAT. PRAY. LOVE. TRAVEL.