As parents, we spend our days making sure we have the right tools and partners so our children can grow up healthy, and enjoy all the joys of life, big and small. From the vitamins they drink to keep them strong, to the lotions and creams that keep their skin smooth and healthy, their well-being is at the top of the priority list.
Young moms and dads who have experienced eczema, or who are now seeing eczema symptoms in their kids often feel anxious and worried when their little ones experience redness or skin irritation. Also known as atopic dermatitis or skin asthma, eczema is a chronic inflammatory skin disease that leads to dryness, itchiness and redness in skin, and these symptoms appear over time in varying degrees. From spotting the first signs of redness and flaking, itchy skin, to reaching the peak of severe cracks and bleeding, worsened by scratching, eczema may come and go, but mostly remains dormant in the skin.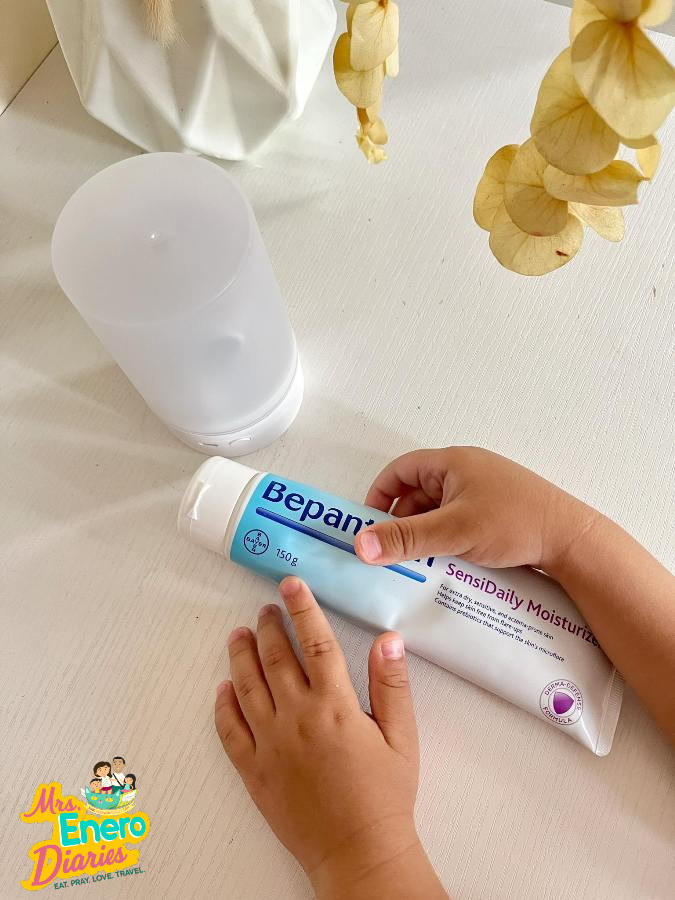 While eczema is not life threatening, parents worry over this because it may have a significant impact on their child's life, limiting the clothes they wear, the activities they do outdoors and under the sun, and even the food they eat so they don't further irritate their skin. When a flare up happens, you as the parent want to help your child not only relieve the itch and prevent skin from bleeding, but more importantly, space out the next flare up for as long as possible and get their life back to normal.
Because eczema occurs as a succession of inflammatory flare-ups which appear over time, Bayer Consumer Health introduces its ABC Eczema Care System. Bayer aims to help parents and their kids reactively treat eczema flare ups, while also proactively repairing and moisturizing skin to mitigate future flares-ups. With their products, managing eczema and controlling flare ups is as easy as ABC.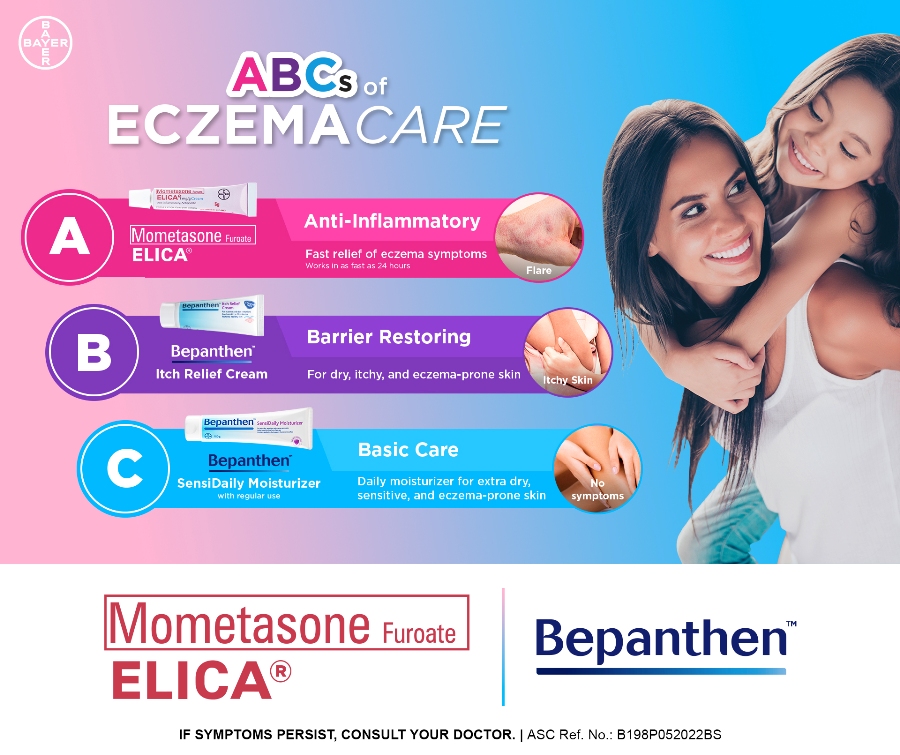 A is for Anti-inflammatory
The peak of eczema symptoms are flare ups that often come with redness and swelling of the skin. For fast relief of these symptoms, Mometasone furoate (Elica®), is an OTC topical steroid that helps control and calm down the inflammation, with visible results in just 24 hours. Available in cream for wet wounds and ointment for dry, thick areas, Mometasone furoate (Elica®) relieves itching, swelling and inflammation.
B is for Barrier Restoration
Once major symptoms have subsided, your skin needs to heal from the scratching and dryness. Bepanthen Itch Relief Cream not only calms itchiness within 30 minutes, but also helps heal the impaired system barrier in eczema-prone areas. A steroid-free cream, it can be applied as needed when itchiness occurs, so you don't need to worry about potential harm to your babies and children. As it helps prevent the loss of water in your skin, using Bepanthen Itch Relief Cream is a proactive measure parents can take to lessen itchiness, redness and irritation.
C is for Basic Care
Eczema management is not just a one-time occurrence. To help space out the next flare up for as long as possible, the skin needs to be cleansed and moisturized on a regular basis. Bepanthen SensiDaily Moisturizer is clinically tested to help keep skin flare-free for at least three months. Formulated with prebiotics to help keep extra sensitive, eczema-prone skin healthy, it provides deep and long-lasting* hydration for your whole body.
Beating eczema should not be a case of hit or miss. With Bayer's ABC Eczema Care System, managing it is as easy as ABC!
If symptoms persist, please consult your doctor.
Elica and Bepanthen are available via Bayer Official Stores on Shopee and Lazada. To learn more about Elica and Bepanthen, visit their official websites at https://www.elica.com.ph/ and https://www.bepanthen.com.ph/.
*For up to three months, with regular use. ASC Ref. No. B214P052622BS
Mrs.Enero – Angel Enero is a former IT System Administrator and now a full-time SAHM to her #littleEneros. She's a domesticated / hands-on mom who loves baking and gardening.
MRSENERODIARIES blog is an online diary of Angel Enero. Formerly a travel blogger and now a lifestyle mommy blogger. Blogging about EAT. PRAY. LOVE. TRAVEL.