In celebration of National Breastfeeding Month this August, SM Cares continues to promote breastfeeding awareness by mounting the "Free to Feed: Championing Safe Spaces for Breastfeeding at SM" photo contest and exhibit.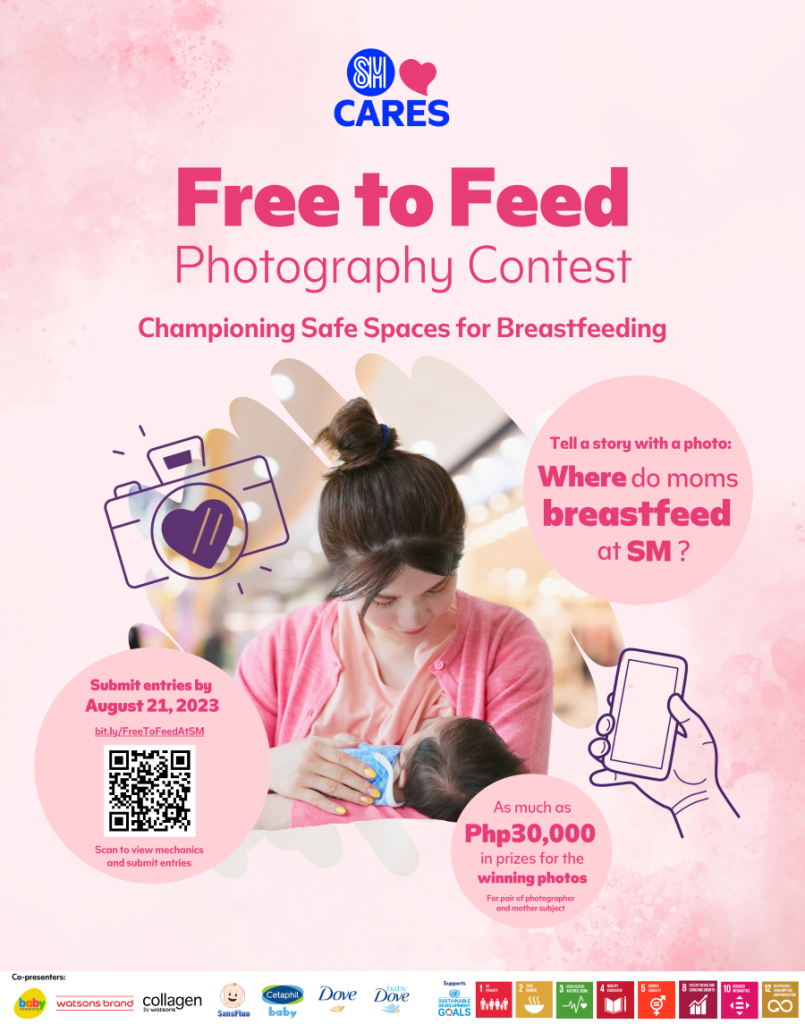 The Free to Feed photo contest is open to all photo enthusiasts. Interested participants are invited to submit original photos featuring breastfeeding mothers in any area within any SM mall, such as the food court, car park, tenant areas and more, but most especially the designated breastfeeding station, until August 21, 2023. Winning entries will be announced on August 28 at SM City North EDSA, and will be awarded as much as Php 30,000 in prizes. Participants may send their entries through this link: www.bit.ly/FreeToFeedAtSM
A photo exhibit roadshow and forum will be held throughout August to serve as a powerful reminder of the importance of supporting mothers in their breastfeeding journey. Visitors can view the Free to Feed exhibit during the following schedules at these participating SM malls: August 10-20 at SM City Davao, August 15-21 at SM City Pampanga, August 16-20 at SM City Dasmariñas, August 19-24 at SM City Iloilo, and August 28 to September 2 at SM City North EDSA.
As the World Health Organization focuses on promoting breastfeeding in the workplace, SM Supermalls provides accessible and safe spaces for nursing mothers through 80 breastfeeding stations available for customers and employees across SM malls nationwide.
"We came up with this photo competition and exhibit because we believe in the importance of advocating breastfeeding awareness among Filipinos and encouraging safe and welcoming spaces for mothers," said SM Cares Committee on Women and Breastfeeding Mothers Program Director Atty. Pearl Jayagan Turley. "SM malls are a prime example of such a place where mothers are free to breastfeed anywhere, while also having breastfeeding stations that are fully equipped with anything moms might need to nourish their babies."
For more information, please visit www.smsupermalls.com/smcares or follow SM Cares on www.facebook.com/OfficialSMCares
Mrs.Enero – Angel Enero is a former IT System Administrator and now a full-time SAHM to her #littleEneros. She's a domesticated / hands-on mom who loves baking and gardening.
MRSENERODIARIES blog is an online diary of Angel Enero. Formerly a travel blogger and now a lifestyle mommy blogger. Blogging about EAT. PRAY. LOVE. TRAVEL.