Set to air this Valentine's Day, starring Marlo Mortel and Majoy Apostol
Knowledge Channel Foundation Inc. (KCFI) in partnership with the National Nutrition Council (NCC) and Department of Health (DOH) brings "I Love You 1000: Batang #Laking1000," a new series that will center on the first 1000 days of a newborn child helping parents with relevant information on nutrition, health, and early childhood care and development.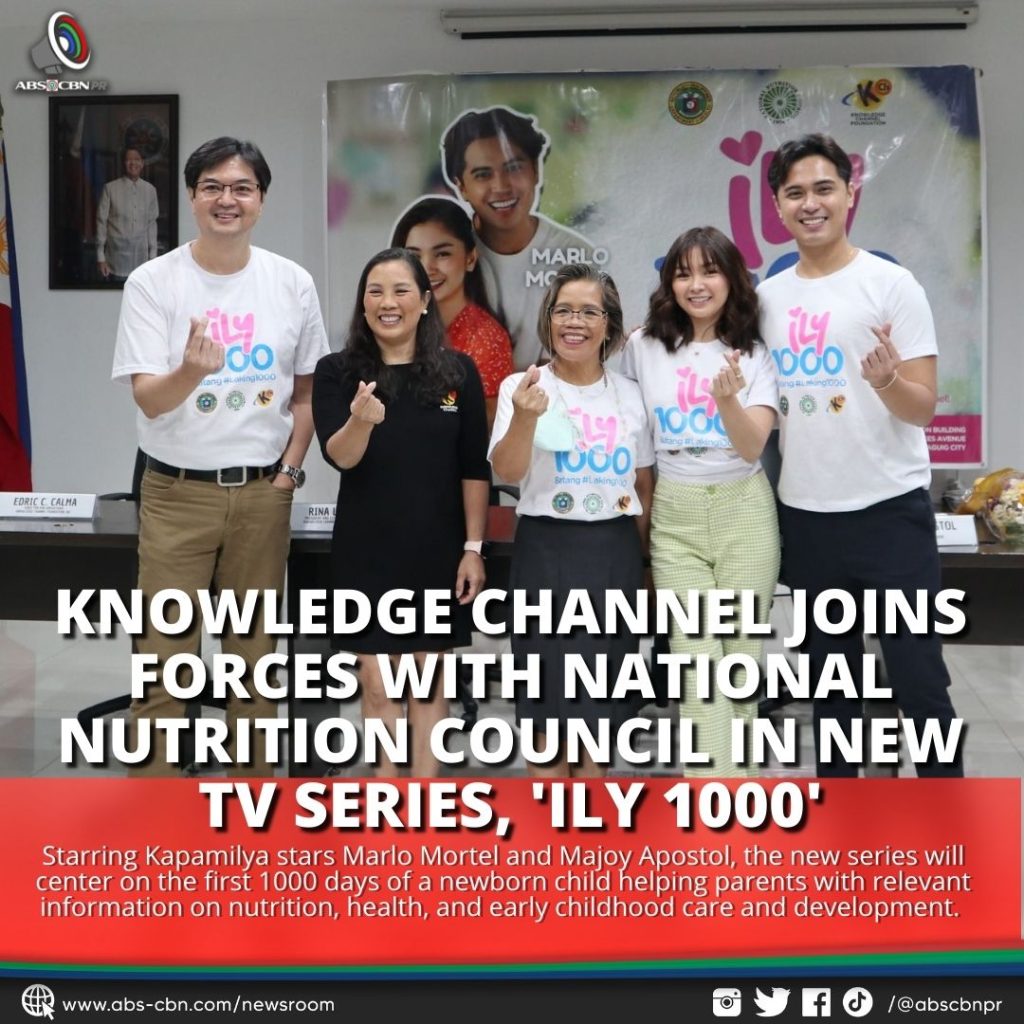 The 16-learning episodes will revolve around the story of a newlywed couple, Angela (Majoy Apostol) and Mark (Marlo Mortel) as they navigate their journey towards parenthood while they consult with experts to discuss their child's optimum physical, mental, social, and overall development. Different topics will be covered on health, nutrition, early learning, and child protection in the context of the first 1000 days of life.
"Each episode is specially curated to address every concern and debunk superstitions on early childhood care. We hope to inspire more parents to raise young children in an environment that is nourishing, responsive, and safe," said KCFI president and executive director Rina Lopez.
As the first and only non-profit organization in the country that develops and provides access to curriculum-based educational videos on-air and online, KCFI continues to intensify its partnership with different government agencies to produce relevant educational content that will reach more audiences nationwide.
"This collaboration with the NNC started out as a response to continuously provide nutrition education classes to Filipino parents and caregivers. Sharing the same mission, we believe that early childhood care and nutrition are critical topics that we need to address today," she added.
Weekly episodes of "I Love You 1000: Batang #Laking1000," will air every Tuesday, Thursday, and Saturday at 4:00 PM starting on Tuesday (February 14) on Knowledge Channel TV available on Sky Cable, Cablelink, PCTA, Cignal, Gsat, Satlite and Digital TV and online through iWantTFC, and KCFI and NNC's social media pages.
For more information on KCFI, visit www.knowledgechannel.org or follow @kchonline on Twitter and @knowledgechannel on Facebook.
Mrs.Enero – Angel Enero is a former IT System Administrator and now a full-time SAHM to her #littleEneros. She's a domesticated / hands-on mom who loves baking and gardening.
MRSENERODIARIES blog is an online diary of Angel Enero. Formerly a travel blogger and now a lifestyle mommy blogger. Blogging about EAT. PRAY. LOVE. TRAVEL.