Allianz PNB Life's sustainability digital video, "No Filter", conceptualized by award-winning agency GIGIL, took home a Crystal Award at this year's international MAD Stars festival, adding to the list of accolades that the campaign has won since being unveiled last year.
"No Filter" is a digital short film that conveys the company's advocacy of sustainability and environmental awareness. Created by GIGIL, an agency known for its creative approaches, it utilizes the popular social media trend of using filters on photos to highlight that the severe impact of climate change cannot be hidden. "No Filter" was able to generate more than 2.8 million combined views from Facebook and Youtube, and delivers an important message on sustainability and Allianz's commitment to help secure the future of the communities it is a part of.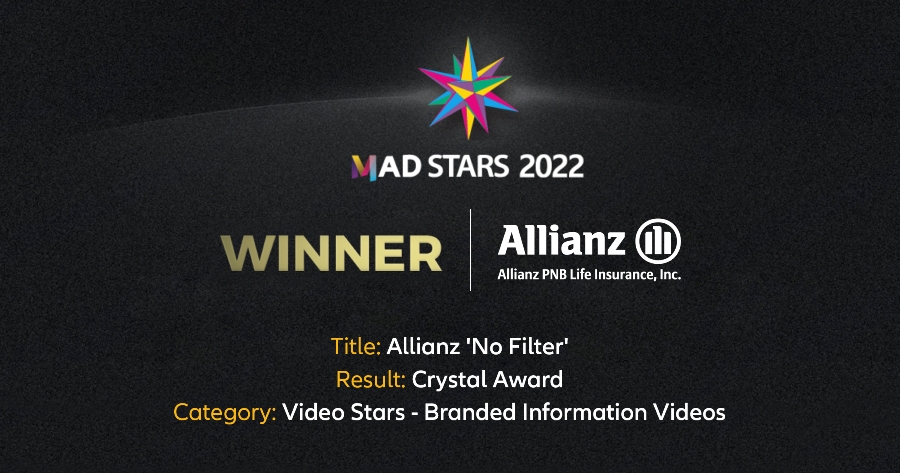 Formerly known as AD Stars, MAD Stars is an international marketing, advertising, and digital content festival hosted in South Korea. MAD Stars aims to celebrate and honor creative solutions that can make the world a better place. It was first held in 2008 and has grown exponentially over the years to become one of the most respected marketing events in the world.
MAD Stars also boasts a powerful panel of judges, consisting of Charu Menon, Partner and Executive Producer at Heckler; Ashwini Deshpande, Co-founder and Director at Elephant Design Pvt. Ltd.; Kathy Delaney, Chief Creative Officer at Saatchi & Saatchi Wellness; Alan Kelly, Chief Creative Officer at ROTHCO | Accenture Interactive; and Chris Duffey, Head of Strategic Development / Creative Cloud Design at Adobe.
Renowned marketing guru Philip Kotler also took part in the festival this year, providing insights and discussions as one of the invited keynote speakers.
"Knowing that our 'No Filter' campaign is out there getting internationally recognized by a prestigious body like MAD Stars is a very big deal to us at Allianz PNB Life," said Allianz PNB Life President and CEO, Alexander Grenz. "It means that our advocacy and our message of securing the future through sustainability is truly resonating with people, not just in the Philippines, but all over the world."
"This is a wonderful opportunity given to us by MAD Stars to show that the message of sustainability can be told in a creative way," said Allianz PNB Life Chief Marketing Officer and Head of Sustainability, Gino Riola. "This enables us to reach as many people as we can and make a powerful impact in the way they view environmental protection and conservation."
"The entire team is truly honored and grateful for the distinction," Grenz added. "We hope this touches more and more people, and inspires them to make actionable changes in taking care of the environment so we can secure a better future for the generations to come."
For more information on Allianz PNB Life, as well as other products and services offered, please visit www.allianzpnblife.ph.
Mrs.Enero – Angel Enero is a former IT System Administrator and now a full-time SAHM to her #littleEneros. She's a domesticated / hands-on mom who loves baking and gardening.
MRSENERODIARIES blog is an online diary of Angel Enero. Formerly a travel blogger and now a lifestyle mommy blogger. Blogging about EAT. PRAY. LOVE. TRAVEL.