The current increases in food prices contribute to the problem in accessing sufficient nutrition and healthy food choices in Filipino households. With higher prices across different commodities, homemakers now face a greater challenge in budgeting while they strive to prepare nutritious and delicious dishes to help safeguard the health of the family, especially the kids.
"We, at Ajinomoto, understand the struggles that parents face nowadays. In our own way, we hope to extend help by sharing thoughtful recipes that take into consideration the health and budget of the family," shares Ajinomoto Philippines Corporation (APC Group) General Manager Corporate Planning and Public Relations Roann Co. "We aim to provide solution and equip homemakers with knowledge on preparing affordable, delicious and well-balanced meals for their kids and loved ones."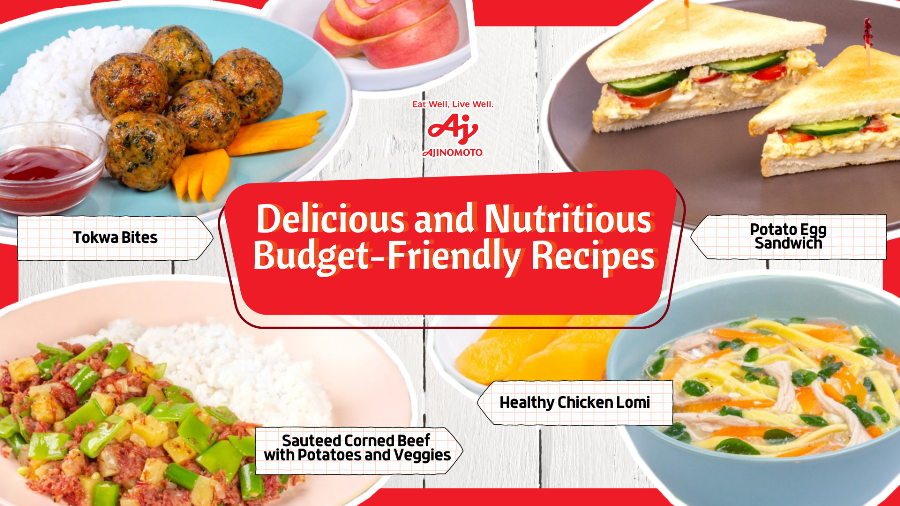 The following delicious and nutritious recipes are not only easy to prepare but also sure to fit the budget, including AJI-NO-MOTO® Umami Seasoning 11g and Aji-Ginisa® 8g which remain to be the most affordable seasonings in the market at Php 3.00 SRP.
Tokwa Bites Meal
Tofu is rich in protein and calcium. Not only it is affordable alternative but also a healthy version of meat balls. Prepare a soft and crunchy Tokwa Bites meal for lunch in 3 easy steps: mix, fry, and serve. You only need half pack (11g) A JI-NO-MOTO® Umami Seasoning to bring out its flavors. Try the recipe here at home!
Potato Egg Sandwich
You can make a healthy Potato Egg sandwich for breakfast or merienda which requires little time and ingredients. Potatoes and bread are rich in carbohydrates for energy while tomatoes are rich in vitamin C which for immunity. Season with half pack (11g) AJI-NO-MOTO® Umami Seasoning for savory deliciousness. Learn the full recipe here.
Sauteed Corned Beef with Potatoes and Veggies
Sauté, season, and serve – this easy-to-remember recipe. Beef is rich in protein while Baguia beans and sitsaro are rich in fiber beneficial for proper digestion. Season with one pack (8g) AJI-GINISA® Flavor Seasoning Mix and you're good to go! Serve a nutritious meal today with our cooking guide here.
Chicken Lomi Meal
New way to cook lomi by adding common Malunggay vegetable which is packed with vitamins and minerals like Vitamin B and C, Iron, and Calcium. Season with one pack (8g) AJI-GINISA® Flavor Seasoning Mix to complete its flavor! See full recipe here.
APC Group's brand promise of Eat Well, Live Well provides Filipinos with ways to serve nutritious meals.  "We believe that eating well and living well does not have to be expensive. We hope that through our affordable products and health initiatives at Ajinomoto, we get to help parents in bringing about a well-balanced diet at home amid these challenging times," said Co.
For more delicious, nutritious and affordable recipes, visit www.cookmunitybyajinomoto.com.ph
Mrs.Enero – Angel Enero is a former IT System Administrator and now a full-time SAHM to her #littleEneros. She's a domesticated / hands-on mom who loves baking and gardening.
MRSENERODIARIES blog is an online diary of Angel Enero. Formerly a travel blogger and now a lifestyle mommy blogger. Blogging about EAT. PRAY. LOVE. TRAVEL.