We have seen how digital technology helps a lot in making our life easier this pandemic. And in my case, BDO Unibank really find its way to make my life easier with their expanding digital services. It help me to alleviate the impact of COVID-19. It is so convenient because no need to wait in line or plan your day around bank hours, BDO's digital services gives us the complete control over our banking needs, wherever and whenever you need it.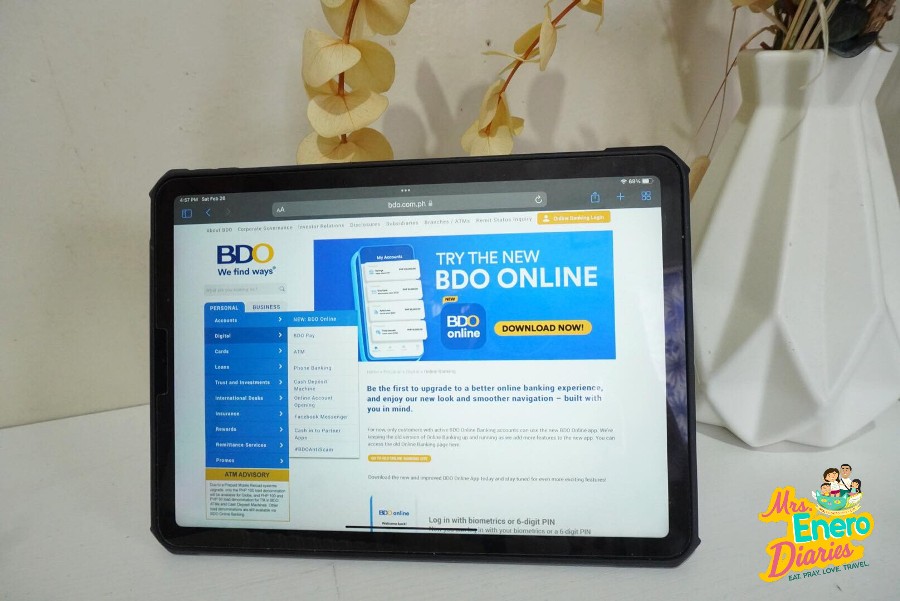 Here are the digital services offered by BDO :
New BDO Online. It is the new and improved BDO Online App, designed for easy and secure on-the-go banking. It lets you manage your accounts, keep track of your finances, and make different types of transactions anytime, anywhere. Try it now and be the first to upgrade to a better online banking experience, and enjoy our new look and smoother navigation! You can download the BDO online App for FREE from the Google Play Store (Android) or the App Store (iOS).

Here are the BDO Online App features :

Device Biometric/PIN setting, forgot/reset password, forgot username
View account summary and transaction details (Checking Account, Savings Account, Time Deposit, PHP Credit Card and Loans)
View transaction details (Checking Account and Savings Account, and Credit Cards)
Send Money to your own account, any other BDO account, or another local bank and mobile wallets via InstaPay
Schedule and manage Send Money to own account for future transactions
Pay Bills
BDO Pay. You can make a quick and easy payments using your phone with BDO Pay : Scan to pay in stores, Send and Request Money, Pay Bills, and more – straight from your BDO accounts! No need to pay fees and add money to your wallet. Signing up for BDO Pay is as easy as 1-2 tap. click here on how to sign up to BDO Pay.
BDO Phone Banking. Fast and secure banking is just a phone call away and available 24/7. It is like visiting a BDO branch from the comfort of your own home or office. You may also perform transactions from abroad.
Online Account Opening. Open a BDO account without stepping into a branch, you can enjoy the features of a BDO Account and access it easily via Online Banking. Instead of a branch visit, all you have to do is join a Zoom video call from the safety and comfort of your own home. Just choose any BDO branch as your home branch, where you'll pick up your BDO Debit Card, Passbook or Checkbook and make future transactions. Available accounts are : ATM Savings, Kabayan Savings, Passbook and Peso Checking.
BDO Chat Support / Facebook Messenger. If you need to get instant answers to your concerns regarding Digital Banking, Credit Card Status, Remittance Request and other BDO Products, you to chat with us at BDO Unibank on Facebook Messenger.
Cash in to Partner Apps. You can top up without sharing your debit or credit card details, just cash in from your BDO account. The newest way to cash in to your Lazada wallet and Grab Pay is by linking your BDO Digital Banking account to the Lazada or Grab Pay app or website! You can use your Current or Savings account to cash in and pay.
#BDOAntiScam. Be smarter than a scammer with #BDOAntiScam

Here are some reminders to help you recognize scams and protect your accounts.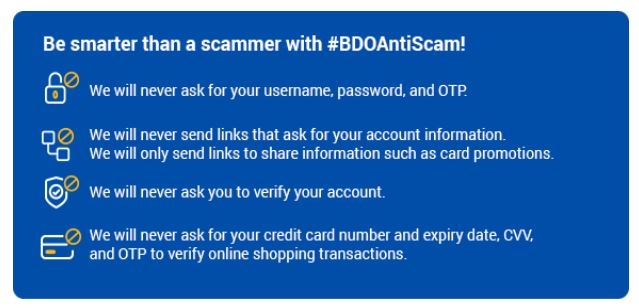 Indeed BDO find ways… find ways to make their customer's life easier with the services . And with their new digital services, there are convenience, security and control in accessing my daily financial transactions. Check out BDO Unibank's digital services via https://www.bdo.com.ph/.
Mrs.Enero – Angel Enero is a former IT System Administrator and now a full-time SAHM to her #littleEneros. She's a domesticated / hands-on mom who loves baking and gardening.
MRSENERODIARIES blog is an online diary of Angel Enero. Formerly a travel blogger and now a lifestyle mommy blogger. Blogging about EAT. PRAY. LOVE. TRAVEL.