Rainy season is here! Mosquitoes are not only annoying, but they're also dangerous. Arm your family with an effective mosquito repellent to prevent diseases like dengue. Eliana uses BugOut Mosquito Repellent Bracelet since she started school two years ago. Check out my review here. And I have also found a perfectly safe mosquito repellent spray for my family – BugOut Mosquito Repellent Spray. Yes! Finally, BugOut Repellent PH now has a natural mosquito repellent spray.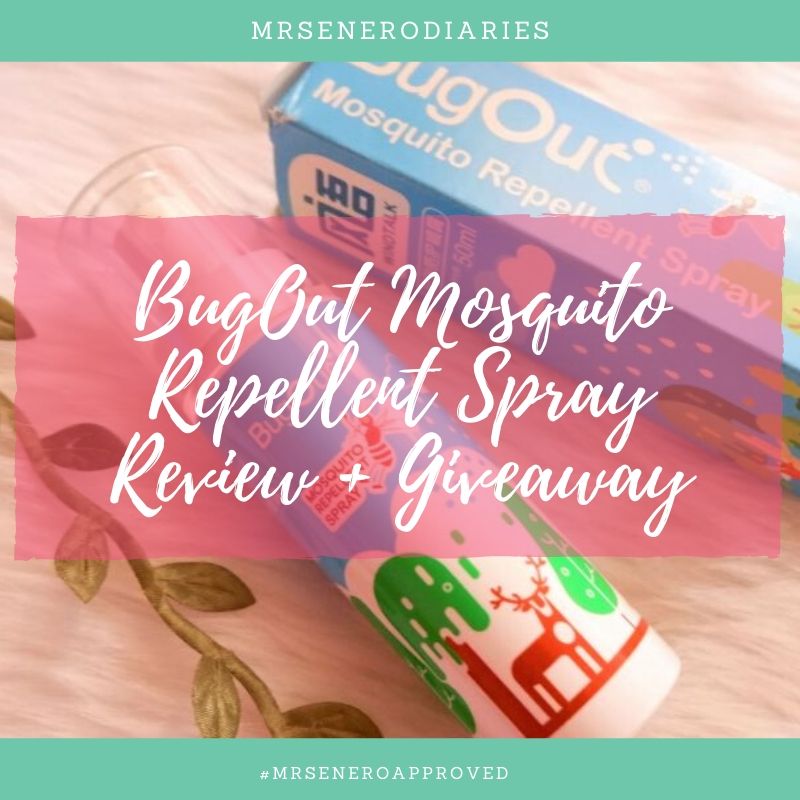 Why BugOut Mosquito Repellent Spray is MrsEnero Approved?
100% Natural. If you're looking around for natural mosquito repellents, you'll want to keep an eye out for ingredients like OLE or oil of lemon eucalyptus, lemongrass, citronella, peppermint, and clove oil and Bugout Mosquito Repellent Spray has everything. It also has citronella oil, lavender oil, clove oil and aloe vera extract. The active ingredient is PMD, a naturally occurring extract of lemon eucalyptus oil. It is infused with essential oils that drive mosquitoes away and provide protection for four hours.
SAFE. It is FREE from harmful and artificial chemicals. BugOut Magic Mosquito Repellent Spray is DEET free and Picadirin FREE.
Effective. I've been using it to Eliana and it keeps the mosquitoes away safely.
Non-greasy and has pleasant smell. Unlike the other mosquito repellent spray, what I love about BugOut Mosquito Repellent Spray, it is non-greasy and has a pleasant smell. It has no strong smell at all. I've tried other natural mosquito sprays but really have a strong citronella scent.
Perfect for both indoor and outdoor use. It can use outdoor as it comes in a travel size bottle.
Go away mosquitoes… BugOut! For more inquiries : Follow BugOut Mosquito Repellent Philippines on Facebook and Instagram. Also available in Shopee and Lazada.
It's GIVEAWAY TIME! Together with BugOut Mosquito Repellent PH, I will be hosting a giveaway and I will be choosing ONE winner of 1 BugOut Mosquito Repellent Spray and 1 BugOut Mosquito Repellent Wrist Band with 4 refills. You can join on Facebook AND/OR Instagram.
Giveaway Mechanics :
On Facebook

Follow MrsEneroDiaries and Bugout Repellent PH on Facebook.
Comment "done" on the BugOut Giveaway post on my FB page and tag 3 mommies/daddies. 1 comment = 1 entry.
For additional entry,  share this blog post on Facebook with the caption  "Check out this BugOut Mosquito Repellent review and join the #mrsEnerodiariesXbugout giveaway too.  Tag 3 mommies/daddies.

On Instagram

Follow MrsEneroDiaries and BugOut Repellent PH on Instagram.
Comment "done" on my BugOut Giveaway photo on on my Instagram page and tag 3 mommies/daddies. 1 comment = 1 entry.
✨ BONUS ENTRY ✨
Share the giveaway on IG story, don't forget to mention us : @mrsenerodiaries and BugOut Repellent PH
Giveaway details :
Mechanics above should be followed.
The giveaway will run from July to July 25, 2020.
The winner will be announced on my blog.
Open to all Philippine residents only.
Good luck everyone!
Mrs.Enero – Angel Enero is a former IT System Administrator and now a full-time SAHM to her #littleEneros. She's a domesticated / hands-on mom who loves baking and gardening.
MRSENERODIARIES blog is an online diary of Angel Enero. Formerly a travel blogger and now a lifestyle mommy blogger. Blogging about EAT. PRAY. LOVE. TRAVEL.