The influencer squad will reveal their go-to fashion items and make-up products from Shopee
Shopee is thrilled to announce the launch of "Shopee Besties," a dynamic squad of the country's top fashion and beauty influencers. These influencers have shared their favorite Shopee fashion & beauty picks since July. With the official launch, this exciting collaboration is set to redefine the online shopping experience as the Besties reveal more fashion and beauty secrets from Shopee.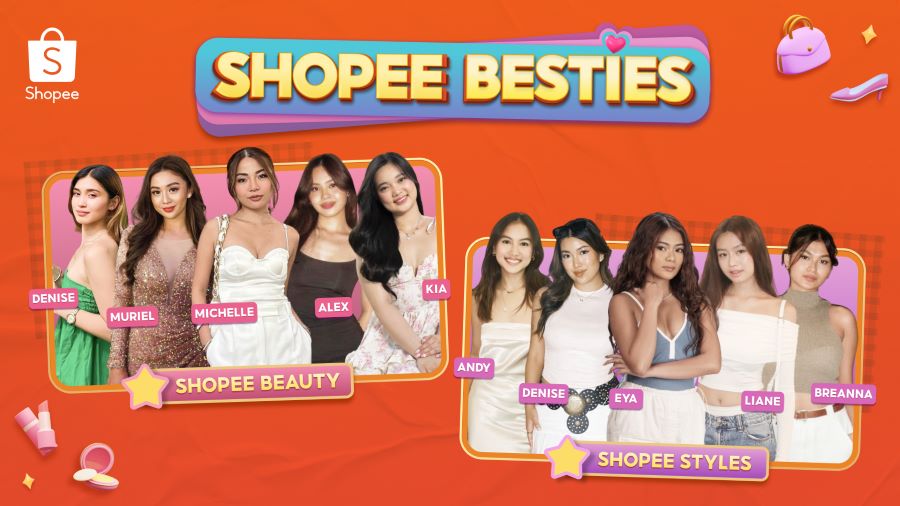 Huiyan Pan, Head of Marketing at Shopee Philippines, shared about the partnership, stating, "We are glad to be partnering with fan-favorite influencers to bring more personalized and engaging content to our shoppers in the Philippines. Shoppers can look forward to insider shopping tips, top picks, and exclusive deals from Shopee Besties. We will continue to work with our partner brands, sellers, and influencers to deliver a more interactive and enjoyable shopping experience for shoppers this year-end."
The latest Shopee Besties lineup includes fashionistas sharing their must-have clothing brands and beauty gurus who will showcase their top makeup and skincare recommendations, available on Shopee. 
Fashion Besties:
Eya Borja (@eyevanana)
A fashion & beauty creator with over 13.2 million followers on social media, Eya shares that Shopee allows her to purchase high-quality pieces at affordable prices, thanks to the various promotions and discounts.
Liane San Jose (@snj.liane)
As a lifestyle and fashion content creator, Liane uses Shopee as the platform to help make her "dream wardrobe come to life", thanks to the wide array of fashion and beauty items available.
Denise Annthea (@deniseannthea)
A content creator and the founder of the online crochet bag shop, She Made Me Buy It, Denise shops on Shopee to keep up with the updated fashion trends on the platform.
Breanna Estacio (@breyannuh)
For fashion and lifestyle content creator Brenna, Shopee is "where fashion finds a wallet-friendly runway" thanks to the numerous discounts and vouchers she can use for each purchase.
Andy Arguelles (@andyarguelles13)
While managing her studies, Andy is a content creator who mostly features fashion (outfit and style trends) on her social media. She loves to purchase fashion items from Shopee as the items are of great quality and arrive very quickly.
Beauty Besties:
Michelle Dy (@michelledyy)
Michelle is an established beauty vlogger with over 1.6 million followers on Instagram. She enjoys purchasing beauty products from Shopee due to the promotions and discounts available, and the platform also provides a vast selection of brands that she can pick from.
Kianna Duntugan (@kianna.d)
Despite still being in school, Kianna has started carving her path as a content creator known for her beauty-related content. With Shopee, it allows her the "most convenient way of shopping" with the array of items available.
Muriel Nicolas (@murielnicole)
Balancing her work as a flight attendant and beauty content creator, Muriel relies on Shopee as her "go-to platform for hassle-free shopping", providing everything she needs – from skincare and toiletries to clothes and household items.
Alex Manuel (@alexmanuell)
Alex is a beauty and lifestyle content creator who shares her daily OOTDs and makeup looks on social media. She describes Shopee as the "one-stop shop" for all her needs, given the wide range of available items.
Denise Mascarenas (@denisemascarenas)
Denise describes Shopee as accessible and affordable, allowing her to choose from various products and exclusive vouchers and discounts that help her save more as she creates lifestyle and beauty-related content on her social media.
Shoppers are invited to uncover the secrets of looking as fabulous as the Shopee Besties themselves through engaging and informative content on Shopee and their social media channels. Stay tuned for the exciting KOL content on the Shopee app and social media platforms, where our fashion and beauty experts will divulge their insider shopping tips and unveil exclusive deals.
For the latest beauty and style finds, follow the Shopee Besties, and visit the microsites here and here.
Mrs.Enero – Angel Enero is a former IT System Administrator and now a full-time SAHM to her #littleEneros. She's a domesticated / hands-on mom who loves baking and gardening.
MRSENERODIARIES blog is an online diary of Angel Enero. Formerly a travel blogger and now a lifestyle mommy blogger. Blogging about EAT. PRAY. LOVE. TRAVEL.