As the new school year begins and millions of kids are now eagerly getting ready to go back, excited to see their classmates and teachers again, breakfast champion MILO® Philippines is on a nationwide tour to remind moms and kids about the importance of needing nutritious, energetic start every day. This has been especially challenging for students who have been forced to adapt to online learning just a couple of years ago.
As families start adjusting again for face-to-face classes this year, MILO® Champions are going across the country through the "Back to School, Back to Sports" program, visiting different barangays to help jumpstart their mornings with nutritious energy. In partnership with the LGUs, with the support of sports offices, volunteers from CSOs, and DepEd, each trip is designed for kids to learn more about different sports and teach them how to have an active lifestyle after being mostly at home for the past two years.
Trusted health experts have also tagged along to give moms free nutrition training and teach them how to prepare a nutritious breakfast for their kids so that they can stay energized when they go to school and when come back home.
"It is crucial that parents continue to make sure their children consume a balanced diet. A healthy breakfast gives kids the energy they need to fuel their daily activities and start the day off right. According to research, it can boost children's cognitive abilities, such as their memory, alertness, focus, and problem-solving skills, and help them perform better in reading, math, and science tests," said Ann Cayetano, a Registered Dietitian Nutritionist.
Most recently, karateka and SEA Games gold medalist Jamie Lim guested in the South Luzon leg where she introduced basic karate movements to over a hundred kids. "Being active in sports at a young age taught me many life lessons that helped me excel in and outside the classroom like the value of girt or pagpupursige. It's been such an amazing experience to be here with our next generation of Champions, helping kickstart their school year on an energetic note and showing the possibilities that sports can offer them as they go back to face-to-face classes," said Lim.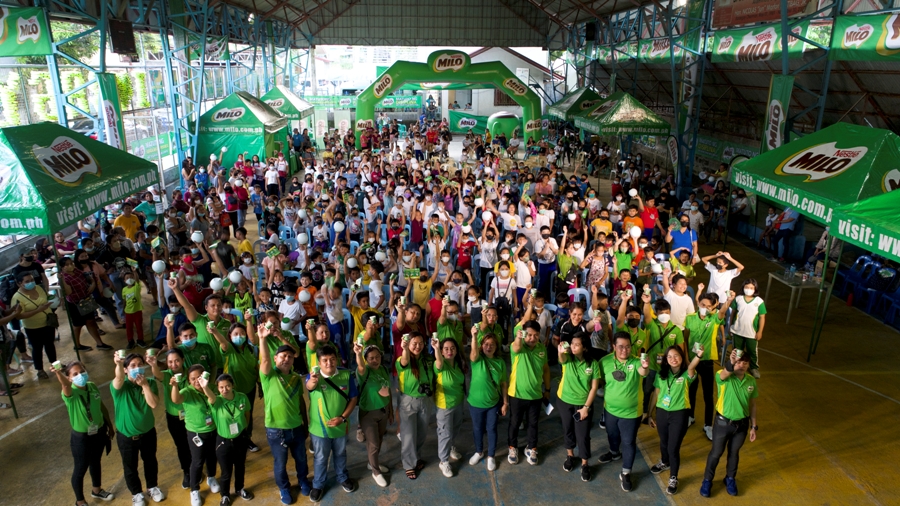 Marathon runner Rio de la Cruz also joined to teach them the importance of doing regular physical activities. He also explained how staying energized and doing daily exercise can help them do better in school. 
"The physical benefits of being active and the valuable lessons it teaches go a long way in helping our kids show grit, or to be pagpupursige. As a young student-athlete, drinking MILO after my early morning training sessions helped give me the nutritious energy I needed to fulfill my academic and athletic responsibilities. Now, as a parent, I'm proud to work again with MILO® in giving my fellow moms and dads the tools they need to continue their kid's Champion journey during the new school year," said Coach Rio. 
Committed to guiding kids on their Champion journey, MILO® Philippines also continues to recognize the important role that both moms and dads will forever play in ensuring kid's success in and beyond the classroom. Integral in that effort are partnerships with experts in nutrition who can equip parents with the tools and information they need to continue keeping their kids energized at school and when they go back home. 
"Together with our partners, we are excited to welcome kids back to school and re-introduce them to sports. For some, it's been years since they've had a chance to go outside and engage in physical activities. Through this program, we hope to help kids start living an active lifestyle because, when paired with the nutritious energy of MILO, it adds to their holistic development," said Sam Ching, Assistant Brand Manager, MILO® Philippines. 
Be on the look out as your barangay could be the next stop in the MILO® Philippines "Back To School, Back To Sports" takover. Visit the official MILO® Philippines website to know more about MILO® sports programs and stay updated with all the latest news and announcements.
Mrs.Enero – Angel Enero is a former IT System Administrator and now a full-time SAHM to her #littleEneros. She's a domesticated / hands-on mom who loves baking and gardening.
MRSENERODIARIES blog is an online diary of Angel Enero. Formerly a travel blogger and now a lifestyle mommy blogger. Blogging about EAT. PRAY. LOVE. TRAVEL.