The Global Apparel Retailer Gives Thanks to Filipino customers With Exclusive Offers, Novelty Promos, and The Brands UT Pilipinas
Japanese global apparel retailer UNIQLO is thanking Filipinos for supporting LifeWear in time for its 10th anniversary in the Philippines. To celebrate this special occasion, UNIQLO is giving its loyal shoppers exciting launches and promotions throughout the month of June.
"We are very grateful to the Filipinos for welcoming us when we arrived here in 2012. We are very honored to be part of our customers' everyday lives, providing them with our LifeWear clothing for their ever changing lifestyles and needs—essentially giving life to our LifeWear brand," says Masato Kusumoto, UNIQLO Philippines Chief Operating Officer.
UT BRANDS PH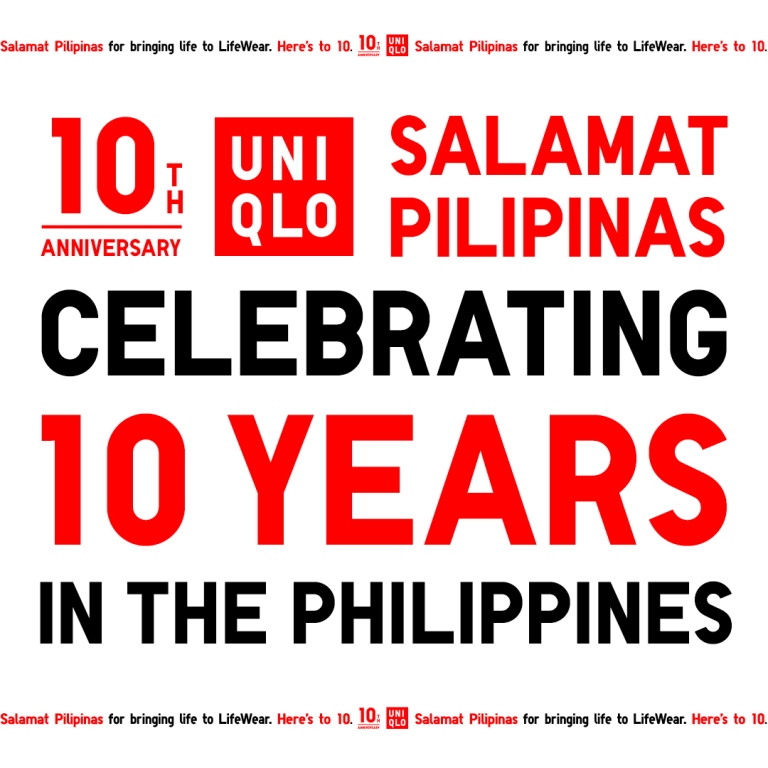 UNIQLO will also mark its first decade in the Philippines with a special collection with local brands that have brought joy and shaped Filipinos' lives and culture. Shoppers can look forward to The Brands UT Pilipinas, featuring a collaboration with San Miguel Pale Pilsen, Selecta, Jollibee, and National Book Store, launching on June 10, 2022.
UT
This season, UNIQLO also launches special collections featuring Final Fantasy, Gundam, Doraemon, Pokémon, LEGO DUPLO, and Mickey & Friends. UNIQLO also introduces special collaborations with the Museum of Modern Art, Magnum Photos, and automakers as part of its The Brands Cars collection. Lastly, winning designs from the UT Grand Prix (UTGP), a design competition that uses t-shirts as a creative medium, would also be made available. The theme of this year's competition was Peanuts.
Throughout the month of June, customers will be treated to in-store displays that showcase UNIQLO's extensive lineup of UT at select UNIQLO stores across the Philippines. Display collections include RPJ x Peanuts, Pixar, MFA x Harrington, Mickey & Friends, Spy x Family, and City Logo.
LIMITED OFFERS
Customers who shop at all UNIQLO stores nationwide from June 10 to 16, 2022 can enjoy these limited offers on their favorite everyday LifeWear pieces for men, women, kids, and babies.
For Men

Men's Ultra Stretch Active Jogger Pants
The incredible stretch and stay-fresh feel make this suitable for sports or casual wear. Dry-EX keeps the wearer comfortable even during high-impact exercises, while a zippered pocket keeps belongings secure when working out.
Now available at Php 990.00 from Php 1,490.00

Men's U Crew Neck Short Sleeve T-Shirt
This t-shirt is one of UNIQLO's top-rated styles, season after season. The high quality is perfected by a dedicated and skilled team of international designers based at the UNIQLO Paris Research and Development Center, led by artistic director Christophe Lemaire.
Now available at Php 490.00 from Php 590.00

Men's DRY-EX Short Sleeve Polo Shirt
Featuring a DRY-EX technology that wicks away sweat and a Cool Touch yarn fabric for instant cooling, this shirt can keep you comfortable all day long especially during warmer days. It is also seamless at the sides for reduced skin contact.
Now available at Php 790.00 from Php 990.00
For Women

Women's Ultra Stretch High Rise Cropped Leggings Pants
The pants have a sleek, cropped length and a high-rise design for a flattering effect. Dry-EX, an extremely fast-drying technology, makes this comfortable to wear, even on hot days. It can be styled either with a cropped or tucked-in top.
Now available at Php 790.00 from Php 990.00

Women's Mercerized Cotton Short Sleeve Mini Dress
The mercerized cotton has an elegant sheen that elevates the outfit. The A-line fit flutters elegantly as the wearer walks, while the mini length has a sleek look.
Now available at Php 790.00 from Php 990.00
For Kids

Kids' AIRism Cotton Easy Shorts
These versatile shorts are made with AIRism, a breathable and silky-smooth fabric for a light and fresh feel. The short length guarantees stay-fresh comfort.
Now available at Php 390.00 from Php 590.00
Girls' Flower Printed Short Sleeve Dress
The stylish dress has an elegant floral pattern created by advanced printing techniques. Its moderately-voluminous sleeves and tiers add to the design, while pockets on both sides offer convenience.
Now available at Php 790.00 from Php 990.00
NOVELTY PROMO
For every P3,500 worth of purchase from June 10 to 12 in all UNIQLO stores (including online), customers will get a free limited edition tote bag illustrated by Plus 63 Design Co. Additionally, if the purchase includes any item from the The Brands UT Pilipinas Shirt collection, customers can get 10% off promo code for Grab Selecta Store and 10% discount at National Book Store.
STORE EXPERIENCE
From June 6 to 30, the LifeWear sales floor at the UNIQLO Manila Global Flagship Store at Glorietta 5, Makati will have a special display of the top 10 favorite UNIQLO items of Filipino customers from the past decade. Customers are encouraged to write their review about the items at the display area for a chance to receive a gift from UNIQLO from June 10 to 12. Visit the display at the 2nd floor of the UNIQLO Manila Global Flagship Store to know more.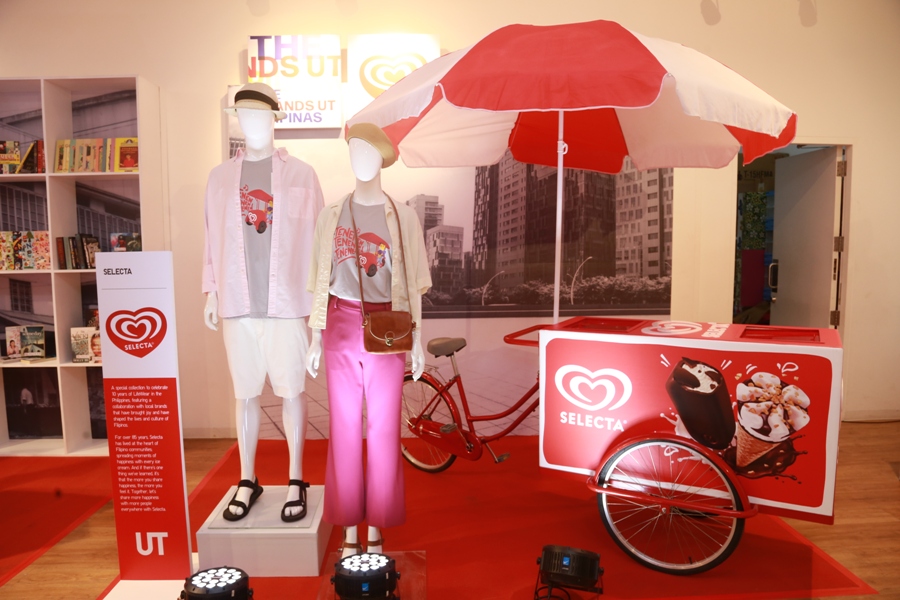 For a complete festive shopping experience, UNIQLO's new "Salamat Pilipinas" jingle will be played in all stores nationwide starting June 10.
For more updates, please visit www.uniqlo.com/ph/en/spl/ut-collection and UNIQLO Philippines' website at uniqlo.com/ph and download the UNIQLO APP via Google Play Store or Apple Store.
Follow UNIQLO Philippines' social media accounts, Facebook (facebook.com/uniqlo.ph), Twitter (twitter.com/uniqloph), and Instagram (instagram.com/uniqlophofficial).
Mrs.Enero – Angel Enero is a former IT System Administrator and now a full-time SAHM to her #littleEneros. She's a domesticated / hands-on mom who loves baking and gardening.
MRSENERODIARIES blog is an online diary of Angel Enero. Formerly a travel blogger and now a lifestyle mommy blogger. Blogging about EAT. PRAY. LOVE. TRAVEL.