Featuring 'Noli Me Tangere,' 'TuklaSiyensya,' and 'Financial Education'
Knowledge Channel has partnered with premier institutions in the country, including the Cultural Center of the Philippines (CCP), Department of Education (DepEd), Bangko Sentral ng Pilipinas (BSP), Banco de Oro Foundation (BDO Foundation), and Department of Science and Technology (DOST) to offer more learning experiences to Filipino youth on its School at Home block.
Following its agreement with CCP in 2021 to help teach students the importance of appreciating Filipino culture and arts, Knowledge Channel airs the classic adaptation of Jose Rizal's masterpiece "Noli Me Tangere," weekdays starting April 18 (Monday) at 5:40 PM.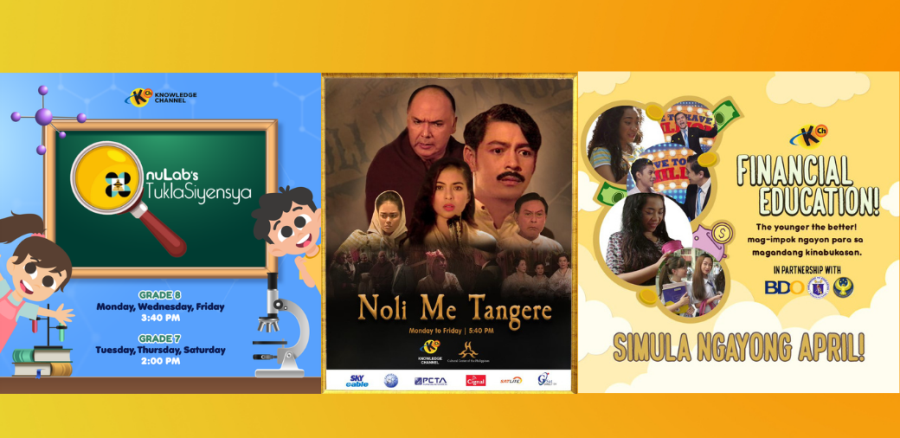 Starring veteran actors Joel Torre, Chin-Chin Gutierrez, Manny Palo, Tetchie Agbayani, among many others, the 1993 series adaptation breathes life into Rizal's historical novel, depicting Crisostomo Ibarra's pursuits of social change during the time of Spanish colonial rule in the Philippines.
Knowledge Channel also partnered with BDO Foundation, BSP, and DepEd to help educate young Filipinos on financial responsibility with "Financial Education," now airing daily after Grades 1 to 10 Araling Panlipunan slots. "Financial Education" features short video lessons chock-full of basic financial concepts and money-saving tips that would help kids and teens to save up for their future.
Earlier this month, Grade 7 and 8 students also got to marvel and learn various scientific concepts in the 12 episodes of DOST's "TuklaSiyensya," which aired from April 4 to 9.
With the help of DOST's array of experts and its innovative mobile science learning facility nuLabs, the show demonstrates exciting ways to teach physics, chemistry, and biodiversity to junior high students through fun experiments and easy-to-understand lectures on scientific facts and principles.
Apart from these shows, students can still enjoy other fun educational programs of Knowledge Channel, which is available on SKYcable, Cignal, GSat, SatLite, PCTA cable affiliates, and BEAM DTT.
Meanwhile, Knowledge Channel also continues to stream its array of online shows as part of its School at Home campaign, such as "Wikaharian Online World," "Learn with Lyqa," "Knowledge on the Go," "MathDali Live," "Money Lessons with FQ Mom," and "Art Smart," Mondays to Fridays, 11 AM, on its official Facebook page (fb.com/knowledgechannel) and the FYE channel via Kumu.
For updates and more educational materials from Knowledge Channel, visit its official website or follow its Facebook page and YouTube channel (youtube.com/knowledgechannelorg).     
Mrs.Enero – Angel Enero is a former IT System Administrator and now a full-time SAHM to her #littleEneros. She's a domesticated / hands-on mom who loves baking and gardening.
MRSENERODIARIES blog is an online diary of Angel Enero. Formerly a travel blogger and now a lifestyle mommy blogger. Blogging about EAT. PRAY. LOVE. TRAVEL.