Rice is a is a staple food in Asia. The world of rice offers a diverse array of varieties, each tailored to meet specific  culinary and dietary preferences. From whole grain variety to the  healthier alternative colored rice, the versatility of rice ensures that there's a perfect  match for every need in changing up healthy eating practices. 
And for 36 years, Golden Grains has perfected the production of rice. Golden Grains may  be out there producing the country's best white rice since 1987 but it also does not  slack in producing organic alternatives in varieties of Organic Brown, Organic Red  and Organic Black Rice. Because of its high nutritional value, regular eaters of these  rice varieties are essentially guilt-free and healthier.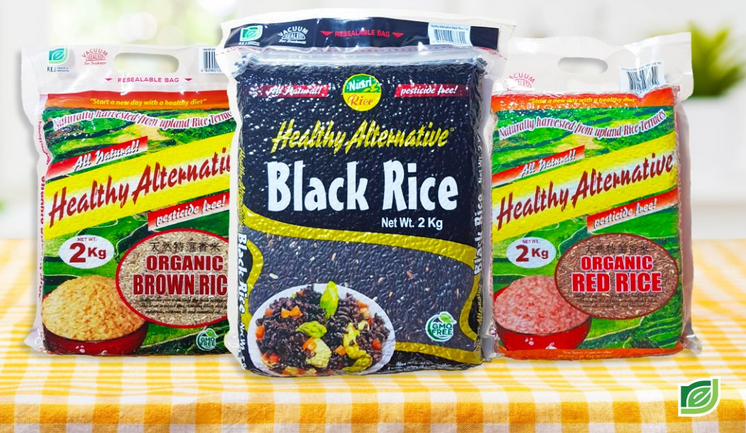 Why Organic Brown Rice has always been Better
Golden Grains Organic Brown Rice is packed with nutritional value including dietary  fibers, essential vitamins and minerals, proteins and fatty acids. This variety of rice  helps delay or prevent development of Type2 Diabetes because it has a low glycemic  index that causes a slower and lower rise in blood sugar, making it a better choice as a  staple food if you want to help prevent diabetes.   Brown rice, likewise, has antioxidants reducing the risk of chronic diseases and  providing protection against oxidative stress. Because it is rich in selenium, it enables  a good thyroid function and immune health, too.  
Behind the Luscious Organic Red Rice
Golden Grains Organic Red Rice is a powerful source both calcium and magnesium making it a perfect staple food to prevent the onset of arthritis, osteoporosis and other bone diseases.
It is known to help achieve weight loss with the red rice variety because it keeps the hunger pangs at bay. And even if you add more portions, because it is low on carbohydrates and fat, the health value does not diminish.
Some may have digestion concerns, so it's good to know that the red rice's soluble and insoluble fiber ensures better digestion. These digestive fibers helps enable smooth absorption of nutrients for better bowel movement.
Organic Black Rice is a Heart-y Alternative
Golden Grains Organic Black Rice is packed with 18 varieties of amino acid known for helping keep body functions healthier as it keeps the body's energy levels up.
Black rice is a great healthy alternative for those who feels they need to regulate triglyceride and cholesterol levels with the aim of reducing risks of heart diseases. With regular consumption of black rice, plaque deposits in the blood vessels that lead to stroke and heart attack may be prevented.
Anniversary Blowout
Come and celebrate Golden Grains' Anniversary Activities this November including its stint  at The Marketplace's Fresh Market 2023 at the Grand Atrium, Shangri-La Plaza from  November 16-19. Stop, smell, see and sample some of Golden Grains' well-patronized  rice varieties namely, Dinurado Aromatic Rice, Thai Japanese Rice, Whole Grain  White Rice, Organic Brown Rice, Organic Red Rice, and Organic Black  Rice.  Surprises await lucky booth visitors!
Award-winning Trailblazer
Golden Grains PH launched its Organic Brown and Red Rice close to a decade ago. A year later, the Consumer League of the Philippines awarded the product line the Most Outstanding Organic Rice Brand for 2005.
More to Come in 2024
As one of the pioneers in the industry to introduce such product lines into a market in need of a healthy alternative to white rice, Golden Grains PH's timely and consumer driven decisions have turned into winning milestones definitely worth celebrating on its 36th year. In 2024, Golden Grains PH is gearing up for new products and healthy rice offers.
Mrs.Enero – Angel Enero is a former IT System Administrator and now a full-time SAHM to her #littleEneros. She's a domesticated / hands-on mom who loves baking and gardening.
MRSENERODIARIES blog is an online diary of Angel Enero. Formerly a travel blogger and now a lifestyle mommy blogger. Blogging about EAT. PRAY. LOVE. TRAVEL.