In celebration of Mondelez Philippines' 60 years in the Philippines, the snacks company recently inaugurated a plastic recycling facility in partnership with its home city of Parañaque. This recycling facility will utilize technology from Green Antz Builders and use recycled plastic collected from the City to create ecobricks for construction purposes. Philippine Business for Social Progress (PBSP) will also support the management and operations of the facility, which is one of
the ways Mondelez Philippines is supporting the Extended Producer Responsibility (EPR) Law.

Breaking ground in September of last year, the Plastic Recycling Facility aims to help reduce the amount of plastic that ends up in landfills and waterways. By shredding and mixing the plastic into cement to make ecobricks, the facility will help contribute to creating a circular economy for plastics. This is a system where plastic is not viewed as waste, but rather as a valuable resource for other purposes. Apart from using plastics, the facility will also provide livelihood to the community members hired to make the ecobricks.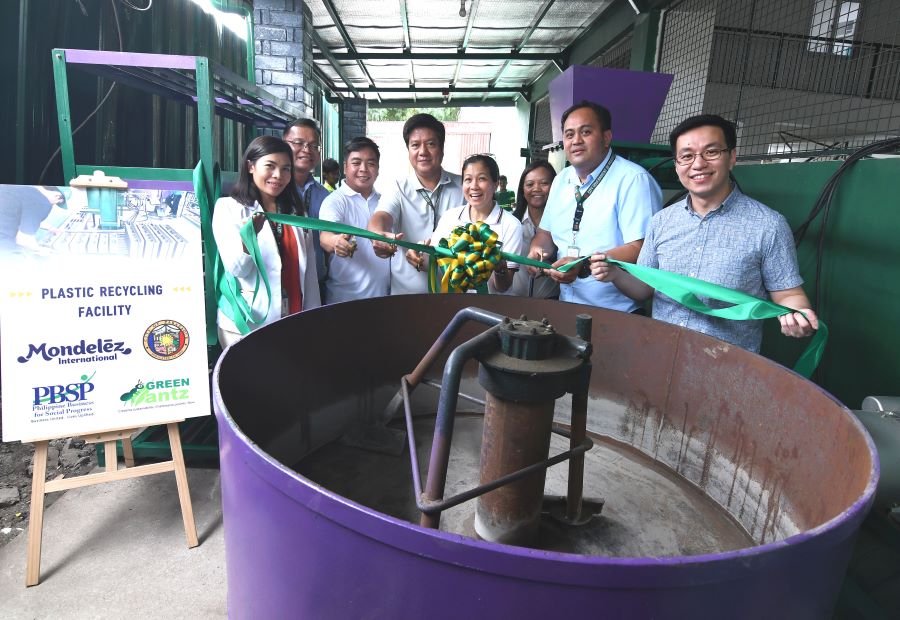 Sustainability is what People and Planet Deserve

According to a survey among consumers on snacking trends, 66% of respondents actively look for snacks that work to minimize their environmental impact, especially Gen Z and Millennials (State of Snacking Survey, 2022). As a global snacking leader, the Company takes this insight to heart in strengthening its sustainability actions. Under the banner of "Sustainable Snacking," the Company aims to grow its business by making its snacks in the right way, with positive impact for people and the planet.
"We are excited for the future of this recycling facility which we are launching in partnership with our home city of Parañaque. Mondelez Philippines is not only celebrating 60 years in the country but more specifically six decades in the City," explains Aleli Arcilla, Managing Director of Mondelez Philippines. "The inauguration is just the start of possibilities for our community. We are looking forward to supporting the reuse of plastic so it doesn't end up as litter, and providing livelihood for the community members who will operate the facility."
Plastic Pollution is Everyone's Concern 
"We applaud the efforts of companies like Mondelez Philippines in supporting initiatives to reduce plastic waste and pollution," shares Elvin Ivan Uy, Executive Director of PBSP. "As their partner, we will provide the tools and support to ensure that the facility is able to sustain its goal of waste reduction and livelihood creation. We recognize that plastic pollution is a problem bigger than one company or one community, and it will take collective and sustained efforts to reduce, dispose, or divert our waste properly."
Green Antz is a circular economy and innovation group. It develops and deploys disruptive solutions to reduce the amount of waste generated, discarded, and existing. One of the ways the Company achieves this is through the creation of recycling facilities that turn plastic into ecobricks. These ecobricks are similar to traditional hollow blocks, but perform better in that they use less cement, and even less water when used to create structures. Adds Green Antz President Rommel Benig, "We are building an ecosystem of communities and industries who use ecobricks to ensure their structures are built with sustainability in mind. Apart from building recycling facilities, we want to ensure that the ecobricks made through them have a market and are utilized more. That's why we also partner with companies who build infrastructure. The ecobricks made through this new recycling facility in Parañaque City will definitely help support our aim of making sustainable communities."
If you or your company would like to purchase ecobricks or know more about them, contact Green Antz through customerservice@greenantz.com .
Mrs.Enero – Angel Enero is a former IT System Administrator and now a full-time SAHM to her #littleEneros. She's a domesticated / hands-on mom who loves baking and gardening.
MRSENERODIARIES blog is an online diary of Angel Enero. Formerly a travel blogger and now a lifestyle mommy blogger. Blogging about EAT. PRAY. LOVE. TRAVEL.