Get up to 59% off storewide, 3-peso deals, shipping vouchers, and gifts when you purchase from OPPO from March 1-7, 2023
Kick off an eventful summer and prepare for your upcoming getaways, as OPPO brings three times the discounts during the 3.3 sale with up to 59% off storewide, offers as low as Php3, bundle deals, and special gifts with your purchases. Mark your calendars and head to OPPO's Official Stores on Lazada and Shopee from March 1 to 7 to grab new smartphones, audio devices, and wearables at the best prices yet.
The biggest steal from this sale are the 3-peso deals from OPPO where all shoppers who shop online every 10am, 4pm, and 11pm on March 3 can get limited devices for only Php3! This includes 1 unit of the OPPO A55, 2 units of OPPO Enco Buds2, and 3 units of DL109. If these are products you want to cop this summer, make sure to set your alarms and be one of the lucky shoppers to avail of this special promo.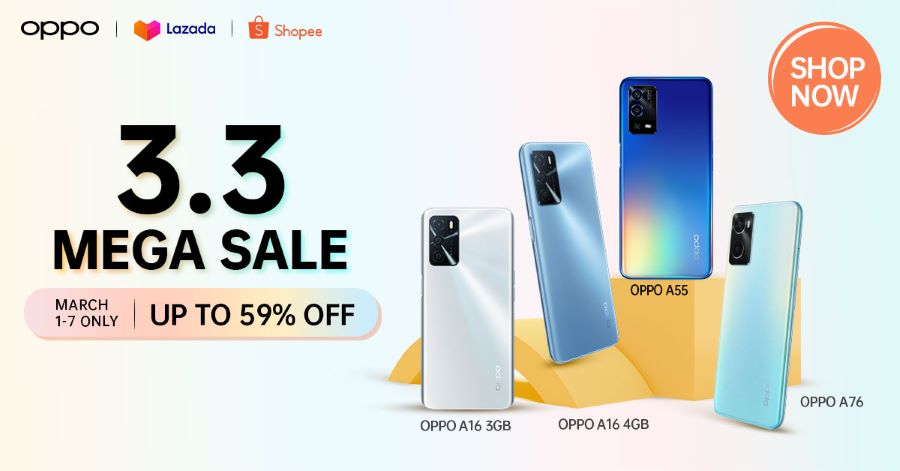 Bundle deals for an absolute steal
For A-Series fans, this is the perfect time to upgrade and grab your new smartphones. This March 3, the OPPO A16 in 3GB and 4GB will be on sale along with the OPPO A55 in special bundles with wearables and audio devices. Get the OPPO Band with any of these three smartphones at Php 6,399 if you choose the A16 3GB, Php 7,599 if you choose the A16 4GB, or Php 8,599 if you choose the A55. However, if you've been wanting to get your hands on the Enco Buds2, easily get it along with a new device from Php 6,999 with the A16 3GB, Php 8,199 for the A16 4GB, and Php 9,199 with the A55. 
Special gifts with more A-Series and Reno Series smartphone purchases
Apart from discounts you can get from the bundle deals, you can also receive free gifts with purchases of other A-Series or Reno series smartphones! If you are looking for a device that can give you true value for money, you can purchase the OPPO A16K and get a free remote-controlled selfie stick to capture group selfies at the beach with your friends. Meanwhile, the OPPO A55 comes with free TG113 Bluetooth Speakers, and the OPPO A95 also comes with free G25 Sports Earphones, gadget bundles perfect for those who love to be surrounded by music all day.
For Reno fans, get a free Neon Island Deskpad to complete your workspace when you purchase any of the Reno5 and Reno6 series smartphones. If you have been eyeing newer models, you can take home the latest OPPO Reno8 T with a free Q9 Pro Smartwatch, or the all-new OPPO Reno8 T 5G with free Enco Buds 2.
Online shopping vouchers, freebies and installments
The discounts are just starting! Enjoy numerous vouchers from free shipping, cashback, and installment schemes. Get Php50 off shipping with a minimum spend of Php500. Livestream vouchers worth Php100 off with a minimum spend of Php 4,999 are also up for grabs.
Shopee fans can get a 15% off ShopeeMall voucher, capped at Php1,000, as well as an exclusive Php1,000 off the OPPO Reno8 T 5G during the sale period. For easier payment, you can also use SPayLater to get 0% interest installment for up to 3 months for smartphones like the A16k, A17, A76, A95, Reno5 5G, Reno6 Z, Reno8 T and Reno8 T 5G.
Meanwhile, Lazada users can enjoy 10% cashback on each purchase capped at Php500. Apart from this, you can also use LazPayLater to get 0% interest installment for up to 45 days on any OPPO purchase.
A Summer to Remember for Three Lucky Winners
For all OPPO fans participating during this sale period, you can enter the raffle for a chance to win a Home Electronics Package worth P17,000 when you purchase any OPPO smartphone on March 3. Three lucky online shoppers will be chosen to win the grand prize which includes TG113 bluetooth speakers, Q11 smartwatch, GAH modem, air cooler, game grip, ES300 robot vacuum, sterilizer box, A8 long speakers, and Enco W11.
Don't miss out this March 1-7, 2023 and make sure to grab your favorite OPPO devices during this sale, for a summer with three times the fun! Visit official OPPO Official Stores on Shopee, Lazada, and TikTok Shop to make your purchases.
For more information on any of the OPPO devices, visit https://www.oppo.com/ph/ or check out OPPO Philippines' official social media pages on Facebook, YouTube, and TikTok. To get the best care for your OPPO devices, visit your nearest OPPO Care Center or contact us on our website, via Facebook.
Mrs.Enero – Angel Enero is a former IT System Administrator and now a full-time SAHM to her #littleEneros. She's a domesticated / hands-on mom who loves baking and gardening.
MRSENERODIARIES blog is an online diary of Angel Enero. Formerly a travel blogger and now a lifestyle mommy blogger. Blogging about EAT. PRAY. LOVE. TRAVEL.