Spend a magical day of fun and enjoyment at the returning theme park
For the millennials and the generations before them, when it comes to fun, there is no place like Fiesta Carnival. With its varied rides and attractions, kids and kids-at-heart all trooped there to spend an entire day of unadulterated joy – a memory that remains imprinted on everyone's minds and hearts.
Many still wax poetic about the glee and delight that Fiesta Carnival brought countless Pinoys. That's why for this year, Araneta City revives the feels of the classic Fiesta Carnival in time for the happiest time of the year!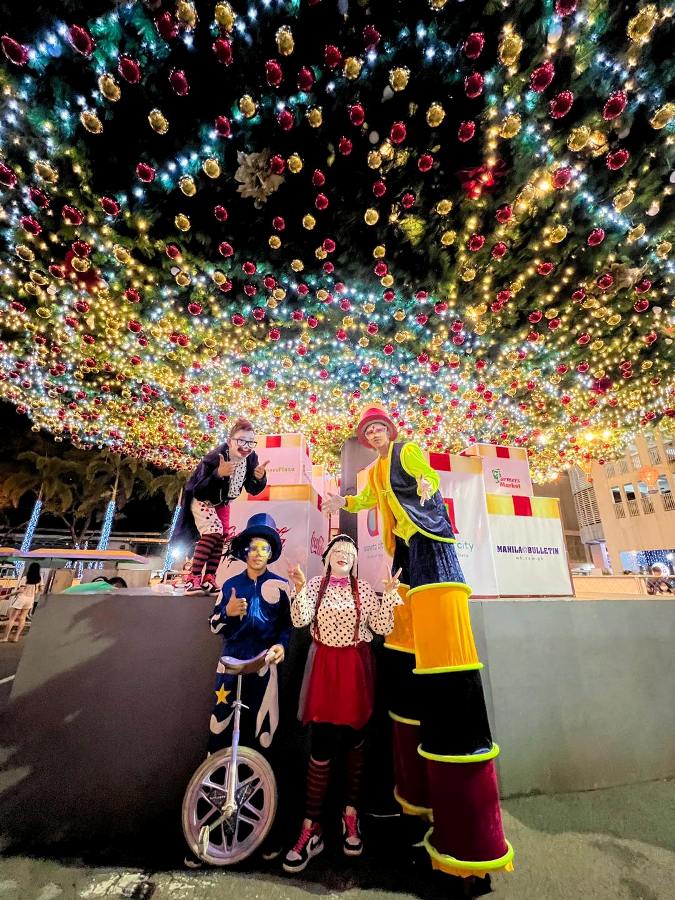 Last November 18, the City of Firsts opened the Mini Fiesta Carnival to capture the vibe of the iconic theme park. This time, the carnival is situated in an open space, welcoming more people to see and experience the unique brand of fun that only the legendary theme park can bring. Its many rides and attractions will surely bring joy to every single person in every family or barkada visiting.
Mini Fiesta Carnival features a variety of attractions. Kids will enjoy a great time at the Boat Pool, Mini Trampoline, Walking Dino, and Jurassic Adventure. The whole family or barkada will have fun together at the Happy Cars and the Carousel. There's also the Happy Chopper ride, a Snow Globe for IG-worthy photos, and an exciting Road Train which goes outside the Carnival and roams around Araneta City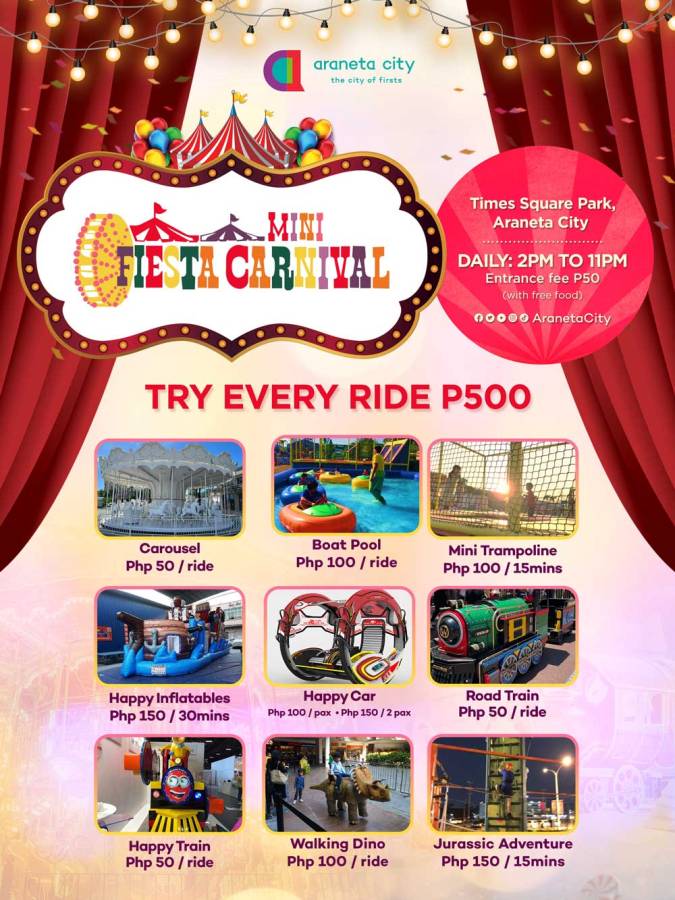 "Our Mini Fiesta Carnival promises to make the holidays merrier and more joyful with many rides, sights, and attractions," Marjorie Go, AVP for Marketing of Araneta City, said. "We revived the essence and feel of the Fiesta Carnival from our childhood, and updated it for modern times. We are sure that you will love the time you'll spend at Fiesta Carnival this Christmas season."
The Mini Fiesta Carnival also features an array of holiday attractions. Apart from the exciting rides and games, the carnival also features the iconic Giant Christmas Tree, and the returning Christmas on Display! Food stalls are also found inside Mini Fiesta Carnival, so you can enjoy some great food and beverages while having the time of your life.
Araneta City's Mini Fiesta Carnival is open from 2 PM to 11 PM every day until January 8, 2023. Entrance fee costs ₱50 with free food or drink. Tickets for each attraction vary, but a try-all-you-can pass is also available at ₱500.
"We are all about bringing our customers a Christmas like no other. The reopening of our well-loved Fiesta Carnival is our holiday gift to Filipino families who long for an accessible holiday destination where everyone can have fun. So, please visit the Fiesta Carnival and create lasting memories with us at the City of Firsts," Go added.
Mrs.Enero – Angel Enero is a former IT System Administrator and now a full-time SAHM to her #littleEneros. She's a domesticated / hands-on mom who loves baking and gardening.
MRSENERODIARIES blog is an online diary of Angel Enero. Formerly a travel blogger and now a lifestyle mommy blogger. Blogging about EAT. PRAY. LOVE. TRAVEL.