Power Mac Center honors fathers of all kinds with a week-long celebration
Buying gifts for mom can be a bit tricky, but we're sure you'll agree that picking gifts for dad is an unmatched kind of difficulty. Father's Day is just around the corner and we are sure you are still struggling with what to get him. We know this, he basically claims to want nothing when asked.
Power Mac Center's Don't Skip Dad's Day campaign offers the most exciting deals specially made for our loving fathers. We have rounded up the best tech gifts that he will surely use. Side note, all of these practical finds come with a discount!
So whether you're looking for a gift for your all-around dad, your hardworking father who deserves a break, or your dad on the go who loves adventures, we have just the right gift idea for you!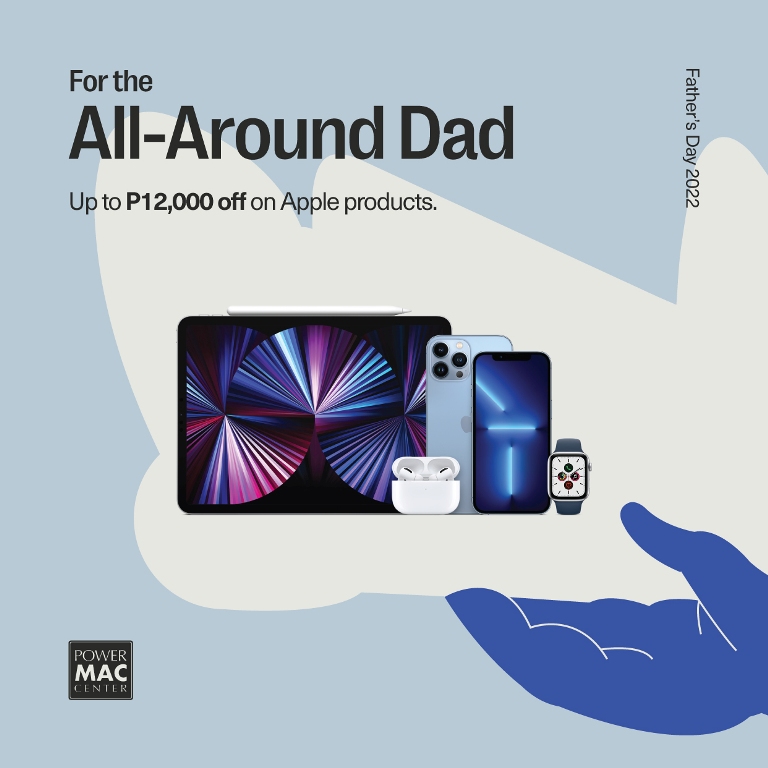 For the all-around dad
All-around dads deserve all-around gifts! Present and active in all respects of work, house, and fatherly duties, surely your multifaceted dad is an incredibly dependable person. On his special day, what he needs is an equally reliable device that he can count on whenever he performs his tasks.
Get your hands on these Apple products with up to a big discount! Power Mac Center offers up to P12,000 off on iPhone 13 and up to P8,490 off on iPad Pro M1. These exciting gifts that reflect how much you support all his ventures will definitely surprise him on Father's Day.
Wait, there's more! You can also enjoy up to P3,000 off on AirPods Pro and up to P1,500 discount on select Apple Watch series.
These promos are available in Power Mac Center and The Loop stores nationwide, Web Store, Viber Store, and The Loop by Power Mac Center official stores on Lazada and Shopee.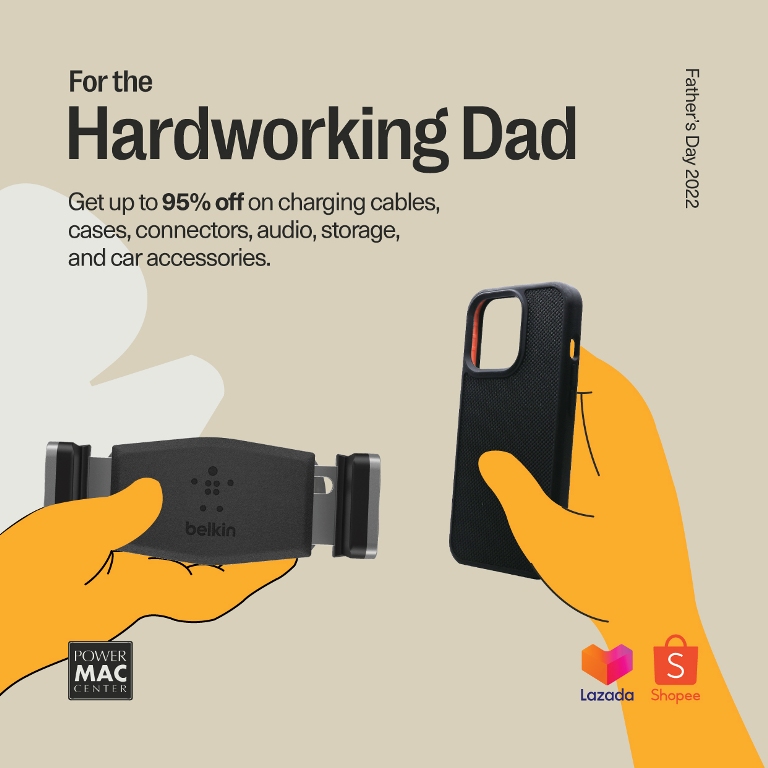 For the hardworking dad
Dads are like superheroes we can always count on to protect the family. On his special day, why not return the favor even with just a simple gesture? Give him the essential accessories so his day-to-day devices are protected, too. With a strong focus on his work, a perfectly functioning charging cord and an undamaged iPhone case are not at the top of his priority list. Nothing screams thoughtfulness more than recognizing the little things and understanding his needs.
Power Mac Center gives you up to 95% discount on accessories like cases, charging cables, connectors, storage, audio, and car accessories. And if you're feeling a little extra, get the rest of the family too to purchase gifts for dad to get free shipping when you purchase a minimum of P2,500 worth of accessories on Power Mac Center online stores from June 15 to June 19, 2022.
These offers are available at Power Mac Center and The Loop stores nationwide, Web Store, and The Loop by Power Mac Center official stores on Lazada and Shopee.
For the dad-on-the-go
Still confused about what to get your gym buff dad? If he doesn't skip leg day, then you definitely shouldn't skip dad's day. You can allow him to try new Saddle Row classes for a change. It can be the next fun activity he can enjoy with you or your mom. Plus, with its health and fitness benefits, it will be well worth it, too!
In collaboration with Saddle Row, Power Mac Center gives you the exclusive opportunity to try out the best fitness classes, like indoor cycling and indoor rowing. Purchase a minimum of P30,000 worth of items at Power Mac Center and The Loop stores to be one of the five lucky winners of a whopping P10,000 gift certificate from Saddle Row, where your dad can engage in a holistic level of fitness that will benefit his health and mental well-being.
Launched in 2015, Saddle Row is a boutique fitness concept creating tailor-fit indoor workouts for cycling and rowing. If you're looking for a safe and smart fitness experience in the shortest possible time for your dad, let him try Saddle Row's indoor workout programs.
Take advantage of the week-long promos of generous discounts from June 14, 2022 (Tuesday) to June 19, 2022 (Sunday). Sale activities are available at all Power Mac Center and The Loop stores nationwide, web store, Viber store, and Power Mac Center official Lazada and Shopee stores.
For more information on the amazing deals, click here and also available on Shopee. Follow Power Mac Center on Facebook, Instagram, Twitter, and TikTok. Subscribe to the PMC Viber community for any inquiries or to learn the updates about the latest Apple offerings.
Mrs.Enero – Angel Enero is a former IT System Administrator and now a full-time SAHM to her #littleEneros. She's a domesticated / hands-on mom who loves baking and gardening.
MRSENERODIARIES blog is an online diary of Angel Enero. Formerly a travel blogger and now a lifestyle mommy blogger. Blogging about EAT. PRAY. LOVE. TRAVEL.