For many, age is just a number…not for Pizza Hut! As one of the country's most beloved pizza restaurants celebrates its 39th birthday in the Philippines, you can join the fun by copping your favorite Pan Pizza flavors, available at 39% off for a limited time only!
You heard that right! That's a hefty 39% worth of savings apiece when you buy a regular or large Pan Pizza from January 17 to February 13, 2023! There's no need for coupons, discount codes, or secret passwords, just some good vibes and great company!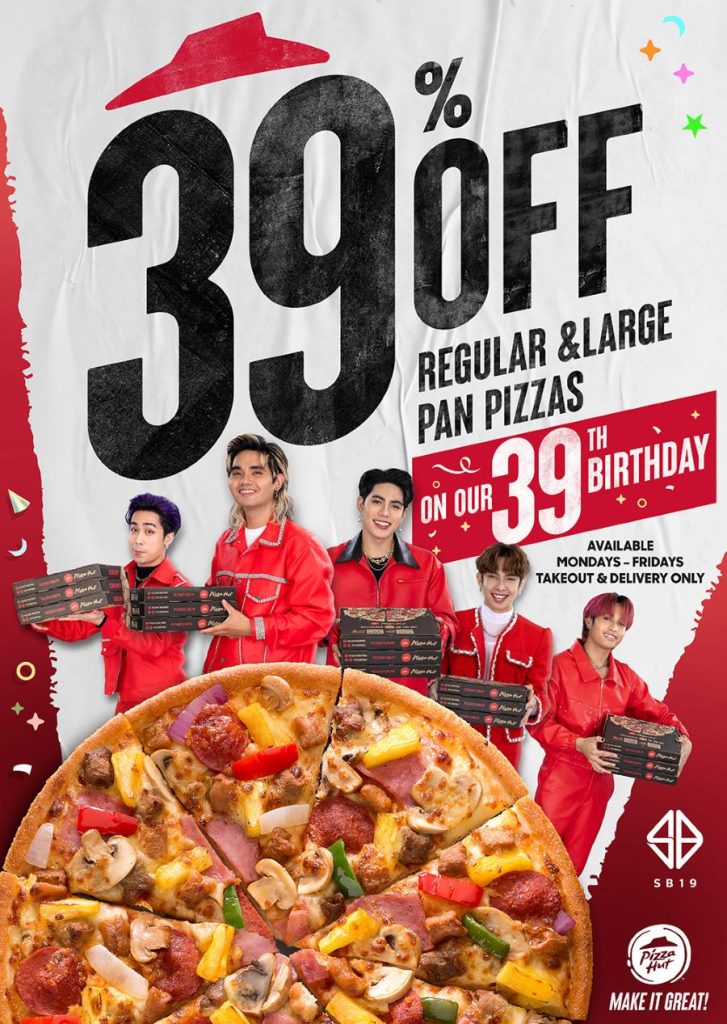 It's available with all Pan Pizza flavors, too! Enjoy all-time classics Veggie Lovers, Cheese Lovers, Pepperoni Lovers, and Spicy Pepperoni Lovers at just P225.09 for regular (from P369) and P340.99 for large (from P559), or indulge in your favorite Supreme, Bacon Margherita, Hawaiian Supreme, Bacon Supreme, BBQ Chicken Supreme, Bacon Cheeseburger, or Cheese Supreme pizza at just P243.39 for regular (from P399) and P365.39 for large (from P599). You can also go with Super Supreme, Meat Lovers, or Carbonara Supreme for just P261.69 for regular (from P429) and P383.69 (from P629).
"A lot has changed since we opened our first store in the Philippines in 1984. Since we launched our signature and world-famous Pan Pizza, Stuffed Crust Pizza, and a variety of great pasta, chicken, and side items, they have become staple favorites among Filipinos, delighting 1.4M customers a month in over 140 locations nationwide. But one thing has stayed the same all these years, and that is our commitment to providing good food that brings people together," said PPI Holdings Inc. COO Chacha Juinio. "And now, as we pass another major milestone in the Philippines, we are inviting all pizza lovers out there to celebrate with us through this irresistible offer."
Get your favorite Pan Pizza at 39% off during Mondays to Fridays by visiting your nearest Pizza Hut branch for take-out. You can also order for delivery via the 8-911-1111 hotline, the Pizza Hut website, or the Pizza Hut mobile app, available for Android (https://play.google.com/store/apps/details?id=com.pizzahut.ph) and iOS (https://apps.apple.com/ph/app/pizza-hut-philippines/id1527383194).
Give Pizza Hut a like and follow on Facebook, Instagram, and Twitter so you won't miss out on the latest news, updates, and deals!
Mrs.Enero – Angel Enero is a former IT System Administrator and now a full-time SAHM to her #littleEneros. She's a domesticated / hands-on mom who loves baking and gardening.
MRSENERODIARIES blog is an online diary of Angel Enero. Formerly a travel blogger and now a lifestyle mommy blogger. Blogging about EAT. PRAY. LOVE. TRAVEL.